Event Speakers Share Economic, Political and Market Predictions for 2020 and Beyond
San Jose, CA, 2/27/2020
– On Wednesday, February 26th, Colliers International welcomed more than 700 clients and real estate professionals to the 21st annual Colliers Silicon Valley Trends
TM
Real Estate Forecast event at the California Theatre in Downtown San Jose. On the agenda: a broad analysis of the economic, political and market trends affecting the Silicon Valley real estate market and a look ahead to what 2020 could hold for the region.
Colliers Executive Managing Director
Reed Payne
welcomed attendees, set the stage and served as host for the afternoon as Colliers experts and guest speakers walked the audience through the multidimensional forces affecting the Silicon Valley Corporate, R&D and Industrial real estate markets.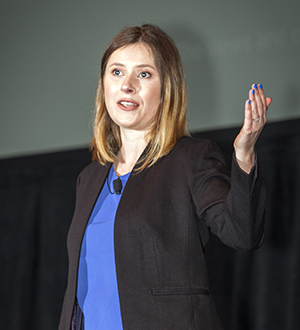 Lena Tutko
, senior research manager for Colliers Silicon Valley, shared her analysis of the market, demonstrating that the fundamentals driving current growth remain strong. Colliers is currently tracking 10.6 million square feet of corporate office space under construction, of which 76 percent is preleased. With an unemployment rate of just 2.2 percent, compared to the national average of 3.5 percent, competition for talent remains high and companies are wooing potential employees with cutting edge offices.
Google led the way in 2019 corporate real estate deals with the largest corporate real estate transaction of the year - not just in Silicon Valley but nationwide - with their purchase of Yahoo!'s 974,639-square-foot former headquarters in Sunnyvale at more than $1,000 per square foot. Apple, Facebook and Amazon also continued to invest and expand in the region, contributing to the two million square feet of new corporate space added to the market in 2019. Despite the introduction of new product, vacancy rates shrank to 5.6 percent due continued high demand for space, which helped push office asking rents up a whopping 103.9 percent since 2010. Demand for R&D and Industrial product also remains strong.
On the economic front, Christopher Thornberg, PhD, a founder and chief economist with Beacon Economics, returned to Trends to share his take on global economic factors affecting the Silicon Valley real estate market. According to Thornberg, "Reports on the end of this economic expansion are highly exaggerated," although signs point to an overall slowing of the economy. The labor market is tight, wages are growing and inflation is low, contributing to a strong economic outlook overall. The biggest potential threats to the current expansion, according to Thornberg, are an equity bubble, trade conflicts, the brewing Coronavirus situation and unease over the upcoming election--each of which has the potential to put a damper on market enthusiasm.
Colliers also invited Jeff Bush, a nationally recognized political thought leader and contributor to The Washington Update to give clients an assessment of the political landscape. After walking the audience through upcoming legislative changes in retirement investing, healthcare, infrastructure and trade, Bush shared his take on what we can expect from the upcoming election. In a word, the field is "murky" at the presidential level with a strong possibility of a brokered Democratic convention. Regardless of party, Bush posited that whichever candidate loses Florida will have to win Michigan, Pennsylvania and Wisconsin to win the election. If forced to make a prediction, Bush said that Trump has a 53 percent chance of winning re-election, the Democrats are likely to keep the House, although not at the same level as today, and Republicans are likely to maintain control of the Senate.
Looking ahead to 2020, Payne closed the event by reiterating that indications suggest that the Silicon Valley market will continue its robust growth streak, fueled by innovation, job growth and continued VC investment.
Colliers was joined in underwriting this year's Trends
TM
presentation by lead sponsor Hudson Pacific Properties, in addition to McLarney Construction, DWS, LMA Law, LLP, Heritage Bank of Commerce, Compass Solutions and HGA.
About Colliers International
Colliers International (NASDAQ, TSX: CIGI) is a leading real estate professional services and investment management company. With operations in 68 countries, our more than 15,000 enterprising professionals work collaboratively to provide expert advice to maximize the value of property for real estate occupiers, owners and investors. For more than 25 years, our experienced leadership, owning approximately 40% of our equity, has delivered compound annual investment returns of almost 20% for shareholders. In 2019, corporate revenues were more than $3.0 billion ($3.5 billion including affiliates), with $33 billion of assets under management in our investment management segment. Learn more about how we accelerate success at
corporate.colliers.com
, Twitter
@Colliers
or
LinkedIn
.

Media Contact:
Mike Jurs
Allison + Partners Northern California
ColliersNorCal@allisonpr.com



---