Kilroy is building an office that will be part of Little Italy's past, present and future
Kilroy Realty wanted something different from the typical glass-and-steel look for the six-story office building it's bringing to Little Italy.
Initially, the company considered something fairly conventional, but that just didn't seem to fit the neighborhood, said Nelson Ackerly, senior vice president of Kilroy in San Diego.
"The feeling was it just wasn't what we had in mind."Ackerly said, adding that Little Italy needed was something that took its history into account and the vibrant feel of the neighborhood.
San Francisco Influence
"What we have is something that looks like a very cool brick and timber building, similar to a lot of the historic buildings that are already there but of a modern design," Ackerly said. "We're taking a lot of what you're going to see in the big-tech areas of downtown San Francisco, bringing that very cool design and bringing it for the first time to downtown San Diego. It's really going to be the hottest office building in San Diego."
With Gensler as the architects, the building that's under construction will be a mix of the historic look and new with a target of achieving LEED Platinum certification for its energy conservation — much like downtown's other new office building- Block D on the other side of downtown in East Village.
"We want to keep the modern efficiencies of the building but we want to stay with the classic look of the neighborhood," Ackerly said.
The 52,550 square-foot site covers a full block bounded by West Ivy and West Hawthorn streets, Kettner Boulevard and the trolley tracks.
Property Purchased for $19.4M
Kilroy acquired the property for $19.4 million from three families who had owned it for decades. The company declined to say what it's spending on the new building.
Five single-story commercial buildings dating as far back as 1913 were demolished to make way for the new building after the structures were determined to have no historical value.
The building will have 210,000 square feet of office space on the top five floors with 15,000 square feet of ground floor retail space and 267 parking spaces.
A 2,000 square-foot courtyard along Kettner Boulevard is meant to provide a recessed entry to the retail space.
Topping off the building is a 10,688 square-foot rooftop deck.
Construction of the building shell is is expected to be finished by in the first quarter of 2021.
Interior work will be up to the tenants.
The Kilroy project is different not only for its design, but by its very nature.
Going Against the Residential Tide
Most of the new construction in Little Italy has been apartment and condominium projects.
"It's hard enough to find land to build an office building, much less compete with all the residential," Ackerly said. "You've got to be crazy to be building offices, right?"
But Kilroy figured all those people living in the new apartments and condominiums could use a place to work, and the tech companies — Kilroy wants to attract as tenants — would be drawn to the talent.
"Downtown, Little Italy in particular, has a lot of college educated employees," Ackerly said, and most commute to jobs in UTC or elsewhere.
"San Diego needs residential, but this area of downtown needs new office space," Ackerly said.
Richard Gonor, an executive vice president with the commercial real estate brokerage JLL, said Kilroy's Little Italy project will likely have no trouble attracting tenants.
Gonor is the leasing agent for a nearby office building at 610 W. Ash St and said that building has historically been very full.
Abundance of Amenities
"The (office) market is very tight in areas of high demand by tenants that are interested in building locations that have abundant amenities in the surrounding areas and are walkable," Gonor said. "Little Italy is one of those few areas in San Diego where you've got an abundance of restaurants, bars, and street atmosphere that people want to go to and enjoy their lunch break or happy hour. Those types of locations have been in very high demand."
Kilroy's Little Italy project in particular is a standout.
"There are just very few projects like this in San Diego," Gonor said. "I see it being a home run for Kilroy. The location should appeal to the vast majority of tenants that are looking for an amenity-rich experience."
Coming Together Downtown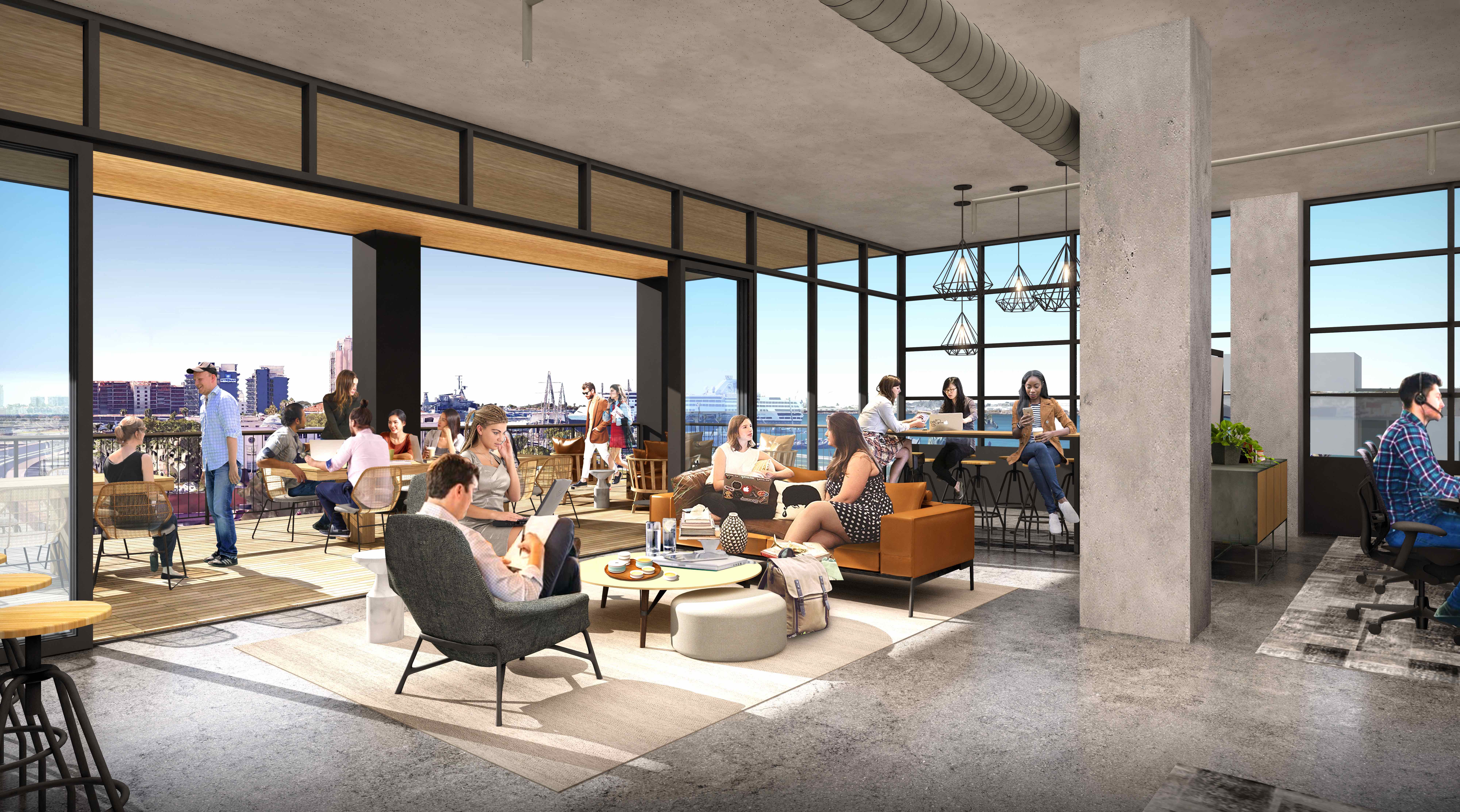 Matt Carlson, a senior vice president of CBRE commercial real estate brokerage who is handling leasing of the Kilroy project, said downtown in general is drawing significant interest from growing and expanding companies that may have opted for North County locations in the past.
"You find everything coming together in downtown right now," Carlson said. "You have investors new to the marketplace. You have new people."
Ackerly and Gonor said that the 45,000 square-foot floor plates in Kilroy's Little Italy project will be particularly attractive to high tech companies.
"You'll be able to see your entire company on one floor," Ackerly said.
Colliers International commercial real estate brokerage reported that downtown office building owners in the third quarter of 2019 were asking for rents of $2.87 per square foot compared with a countywide average of $2.77 per square foot.
Monthly asking rates for top- of-the-line, Class A buildings were $3.09 per square foot in the third quarter, Colliers reported.
By
Ray Huard
---