Property: New UTC Facility is Fully Leased
With construction only just beginning, BioMed Realty has fully leased a 204,000 square-foot research and office project that it's building on Towne Center Drive in UTC.
BioMed Realty declined to say who leased the building other than to say it is a "Fortune 50 company," The realty company also declined to reveal how much it's spending on the project.
The four-story building — named APEX — is designed to be flexible enough to accommodate a variety of uses over time, said Tim Schoen, president and CEO of BioMed Realty.
Respecting the Environment
"It will be appealing to both life science and tech companies," Schoen said.
Designed by the architects Perkins & Will, the goal is for the building to be LEED certified for its energy efficiency.
The design of the 204,000 square-foot building also takes special care in respecting the environment around it, said Ryan Bussard, a design principal in Perkins & Will's Seattle office.
For example, the building's floor-to-ceiling glass that forms the façade has a ceramic coating to make it visible to birds that might otherwise crash into it.
"It's a very subtle dot-matrix pattern," Bussard said. "From the interior, tenants don't see the dot pattern but it's highly visible to birds."
A series of vertical aluminum blinds on the exterior south and west facing sides of the building also will serve the dual purpose of shading the interior from sunlight to increase its energy efficiency and providing an additional visual marker for birds.
The glass itself is made to help moderate the effect of sunlight, although it's not the reflective glass used on some buildings.
Important to Have Views
Overlooking a canyon, Bussard said "It's really important for our tenants to have views out."
From the fourth floor, there's even a glimpse of the ocean.
"It's a sliver, but you can still see it," Bussard said.
The building also has many connections to the outdoors, from large sliding lobby doors that turn that section of the structure into an indoor/outdoor space for a planned café and fitness center to a stepped-back terrace on the fourth floor.
There's also an outdoor amphitheater, an outdoor volleyball court and trails.
"We're really trying to program to take advantage of the weather," Bussard said.
Interior Features
Details on the interior finishes will depend on what the tenant wants, but there are ceiling heights that are up to a little more than 16 feet.
Staircases and elevators are designed to be wider than normal as well.
"We want to make sure that the spaces like stairs and elevators have extra capacity because we know the density of office and research spaces are changing," Bussard said, adding that some companies are placing more people in less space but providing more amenities than in the past.
Built in the shape of the number seven, the building has two wings with a heart-shaped plaza and garden between the wings.
The plaza is where people can be dropped off and also functions as "flex space" for outdoor meetings, Bussard said.
Recent U.C. Project
BioMed Realty recently completed the $92 million Center for Novel Therapeutics at the University of California San Diego – a building that also was designed by Perkins & Will's Seattle office.
Like the APEX building, the 138,000 square-foot UCSD structure used plenty of glass to connect it to the surrounding environment.
With about half of the top floor of the building taken by UC San Diego Moores Cancer Center, it also was designed to allow researchers to catch glimpses of each other while they work to encourage collaboration.
$2.6B California Commitment
Since 2016, BioMed Realty has invested or committed to invest about $2.6 billion in California.
"We really focused the company over the last three years on the core life science markets of San Diego, Seattle, New York, Cambridge and the U.K. (United Kingdom)," Schoen said. "San Diego's fortunate to have one of the jewels in terms of an industry that's growing. Having life science and tech be in your market is a good thing. San Diego has been underrepresented in both."
According to BioMed's website, the company's holdings in San Diego County include nearly 30 projects with several in UTC near the APEX location.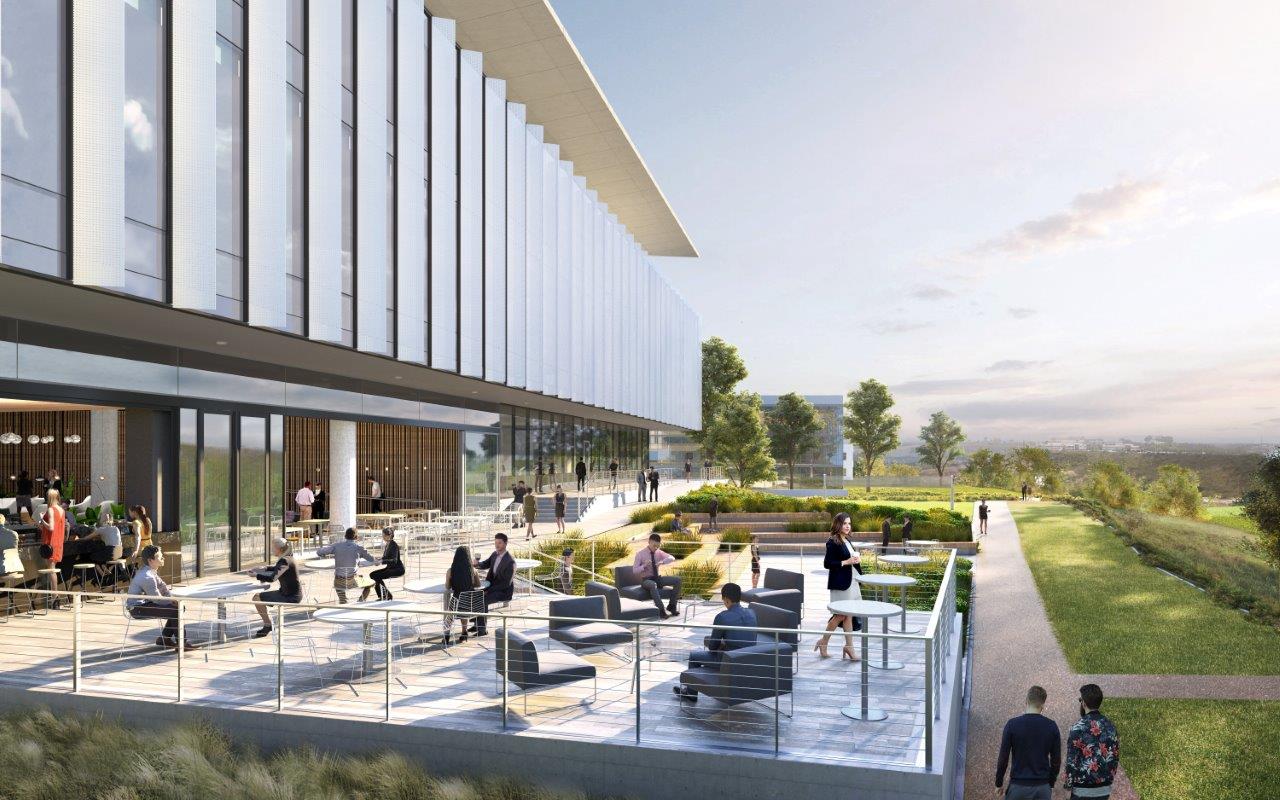 UTC's Plusses
"The UTC area is the strongest life science market in San Diego. UTC definitely has the best fundamentals," Schoen said.
According to a report from Colliers International, UTC ended the third quarter of 2019 with one of the lowest vacancy rates for office space in San Diego County — 7.5 percent compared with a countywide average of 10.4 percent.
Rents in UTC also are among the highest in the county, averaging $3.59 per square foot at the end of the third quarter compared with a countywide average of $2.96 per square foot, according to Colliers.
APEX is unusual for BioMed in that it already has a tenant in place.
Usually Built on Spec
Typically, the company builds on spec, Schoen said.
"This is one that's the exception to the rule for us given the strong fundamentals of the life sciences in San Diego," Schoen said. "California has been a very spec building market where you build a building and they will come, particularly in the markets we're in. We feel there's enough demand for us to do that. We don't necessarily have to have a tenant in tow. Most of our development pipeline is done on a spec basis."
By
Ray Huard
---