Colliers International, an industry-leading global real estate services company with more than 12,000 skilled professionals operating in 69 countries, is excited to announce the eight advisors named Heavy Hitters by the Houston Business Journal.
The Houston Business Journal annually recognizes the city's top commercial real estate brokers based on their gross dollar volume of deals completed the previous year. The Heavy Hitters represent six sectors — office tenant, office landlord, industrial, retail, land and investment.
"The success of these professionals represents the valuable results they produced for our clients across all sectors," said Patrick Duffy, president of Colliers in Houston. "We congratulate our 2018 Heavy Hitters on their exceptional achievements and thank them for their hard work and dedication."
Here at Colliers in Houston we honor the eight advisors named to this year's list who educate, inspire and drive our success.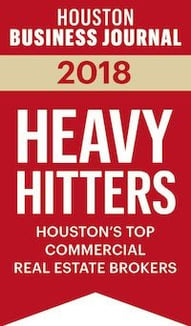 2018 Heavy Hitters by Sector
Industrial
Senior Vice President | Houston
SIOR
Principal | Houston
Land
SIOR
Principal & Director | Houston
Office Tenant Rep
SIOR
Co-Chairman & Principal | Houston
SIOR
Principal & Director | Houston
SIOR
Principal & Director | Houston
SIOR
Principal & Director | Houston
Retail
Senior Vice President | Houston
HBJ names 2018 Heavy Hitters, the city's top commercial real estate brokers
https://www.bizjournals.com/houston/news/2018/04/12/hbj-names-2018-heavy-hitters-the-citys-top.html
Heavy Hitter 2018: Houston's top commercial real estate brokers discuss their 2017 'home run' moment
https://www.bizjournals.com/houston/news/2018/05/08/heavy-hitter-2018-houston-s-top-commercial-real.html
HBJ reveals rankings of 2018 Heavy Hitters, the city's top commercial real estate brokers
https://www.bizjournals.com/houston/news/2018/05/10/hbj-reveals-rankings-of-2018-heavy-hitters-the.html?ana=e_hstn_bn_breakingnews&u=jD6E46%2FhWozukuNkKOTyCSkbaCM&t=1526074287&j=81523621
---